Local Stock Car Racing
We've been supporting Luke in his stock car racing for a few years now. It's great to see our new logos emblazoned across his new car this year.
A word from Luke;
"I always watched stock car racing when I was younger and when I was older I raced remote control stock cars. Then a few years ago, I decided it was now or never and got myself a 'proper' stock car. I'm now starting my fifth season as the reigning Grand Prix Points Champion. I race in a formula called Stoxkarts which are purpose built single seater stock cars. It's a heavily controlled formula where everyone has the same machinery and so driver skill is key, rather than the size of your budget. Races are held all over the country including a trip to Scotland. I love racing and the challenges it brings both on the track, in the pits and preparing the kart for racing."
Race Reports:
27/6/2022
British weekend.
Saturday was wet, really wet. We had one dry race and finished 5th. I'm certainly turning into a fair weather racer. Didn't enjoy the wet races and everything gets covered in slop.
Sunday. The sun came out and although the track was a little bumpy it was far preferable to the slop of Saturday. Didn't qualify for the British due to a crash in heat one and undiagnosed damage from that meaning I was constantly turning left in heat 2. Started the British in last place. Finished in 9th. Really happy with that considering no yellow flags to help out.
I got the second fastest lap on Saturday and fastest Sunday. A weekend of what could have been !!!
Congratulations to the new British champions.
The highlight for me was that my 91 year old Grandad came to watch. He used to take me racing as a kid. Him waving at me from the grass bank while I was on track will be a memory that that'll last forever.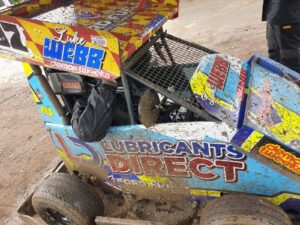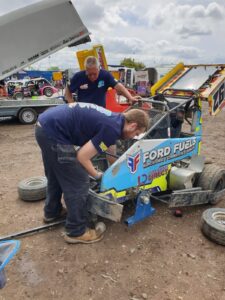 30/5/2022
Skeg Vegas', I wasn't going to this race. But as I made superstar I thought I would debut the lights and the new team wear.
Skegness is far the best facilities wise track we race at and it's nice to see some investment at a track. So I'll try and race here a bit more if I can.
Anyway after a couple of new hubs I lined up for heat 1. Got caught napping on the start, didn't have the set up right. Finished out the points.
Heat 2 made a few changes and was more alert for the start, the kart handled a bit better. Finished 13th.
For the final I listened to the oracle Paul Heath and changed set up again. Much more drivable, had a great race with Craig Hodgkins and finished 5th. Chuffed with that as I started one from last.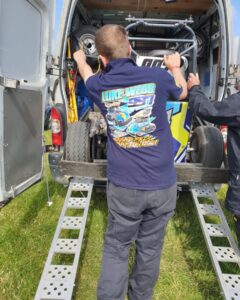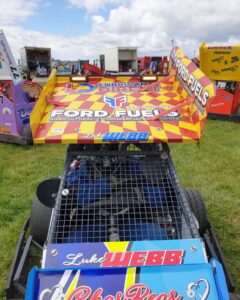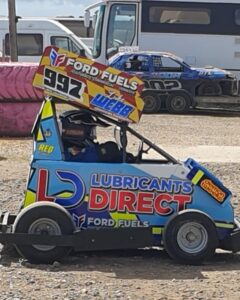 27/4/2022
Great day out at Aldershot on Sunday.
Aldershot race report
Raced a sunny Aldershot on Sunday. In the new Ford Fuels livery.
Heat one. Great race, 3 wide round the top bend was  interesting!!! I finished 4th !! Great result again from red.
Heat two. Awesome battle with Liam Powell. Final bend didn't quite go to plan and got pipped at the line by Aimee Havercroft.
Final. After a few laps the kart started handling awfully. I soon realised that the throttle had stuck open. So pulled off to the middle. Turns out the spring had snapped on the carb end and the cable came out of the guide on the pedal end 🤦‍♂️.
A great day, the top bend is awesome at Aldershot. The facilities and pits are great too. Plus is it relatively close to home.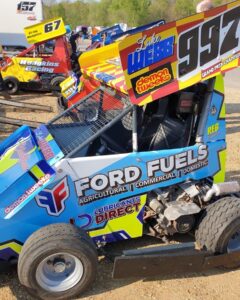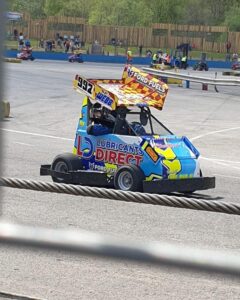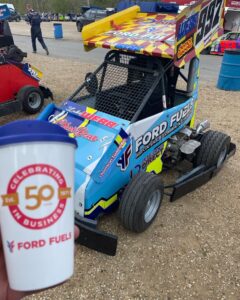 5/4/2022
I raced last weekend at Northampton…
Heat one. Got a good start and battled through the field. With 3 to go, took the lead and brought it home for the win. Dead chuffed as I was starting from the red grade which meant I started near the back of the grid.
Heat two. Broken wheel guard so i was sent to the middle as you can't race with a part of the kart hanging off. !
Final. Great stock car race, nearly rolled but finished 9th.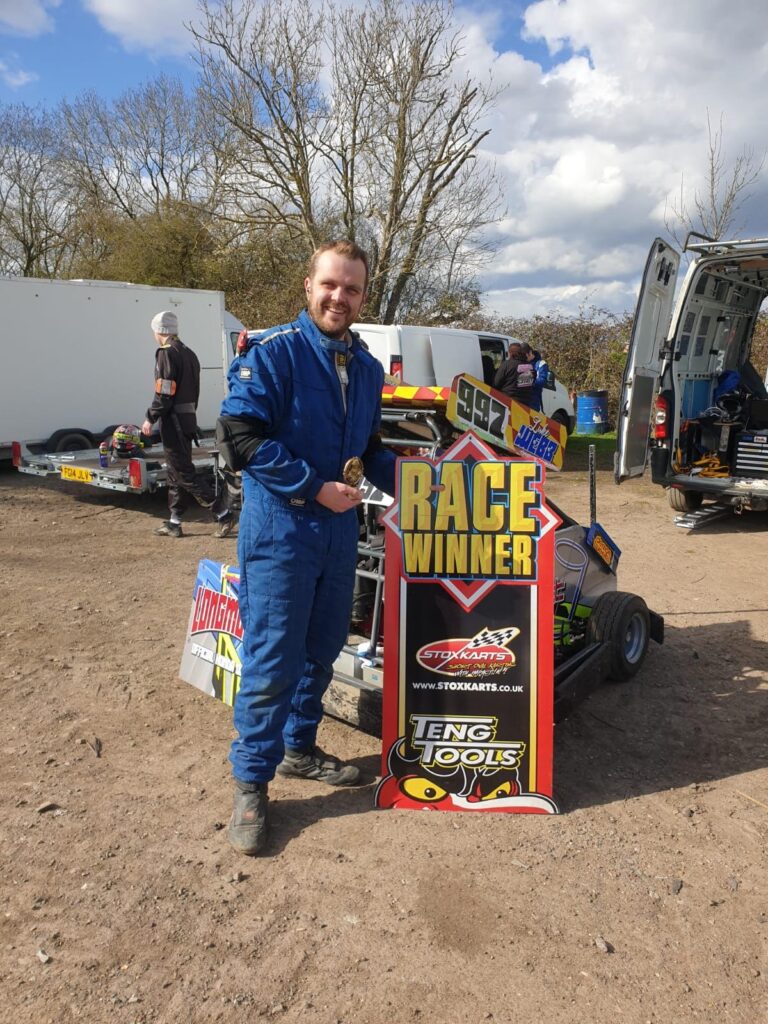 Grand National. Kart didn't feel great, finished outside of the top 10.
Great day ! Plus Mum won the raffle !!
In other news. I  have now collected the kart from the sign writers…  I think it looks great !!!
I want to touch up the paint a little and give the bumpers a good wash then I'll take some better photos before I race this weekend.

4/4/2022
The first race didn't quite go to plan, I collected a spinning kart on lap 2 and then got collected myself. My chain came off and ended up stuck on the inside of the final bend. Quite a view.
Race 2 I had some unseen damage which caused the chain to come off again…on lap 2….again.
Busy time in the pits fixing it all and made it out for the final. Got hit wide early on and on the first caution period I was 3 from last. Managed to race back up to 4th ! Which I was dead chuffed with. Below are some photos from the meeting. The meeting is also recorded for a DVD and will be on 'Spedeworth TV' soon. There will also be some photos from the on track photographers soon.